As a backbone organization to our region, North State Together is focused on developing sustainable shared measurement systems.   North State Together's role is to ensure that our county network partners see the value in data and have the data capacity to collect, analyze, and use data for their own continuous improvement.  As a backbone organization,  establishing shared measurement practices and building partners' capacity to contribute and use data in a shared measurement system is a priority for our team.  We recognize our partners need ongoing assistance with data, and NST staff are here to provide technical assistance and additional staff capacity.  For assistance, please contact the North State Together backbone team at nst@shastacollege.edu.
Developing a shared measurement system is essential to collective impact. Collecting data and measuring results consistently on a short list of indicators at the community level and across all participating organizations ensures that efforts remain aligned. Shared measurement in the context of collective impact is "use of a common set of measures to monitor performance, track progress towards outcomes and learn what is and is not working in the group's collective approach" (John Kania, FSG).
Building off the research provided by StriveTogether and informed by our local county networks, North State Together identified key "cradle to career" benchmarks that frame the efforts in each county and provide guideposts for our region as a whole. The regional indicators will be shared across the region and data about each will be provided to each county.
These six core outcome areas are informed by research as reliable predictors for a child's educational success:
Kindergarten Readiness
Early Grade Reading
Middle Grade Math
High School Graduation and College Readiness
Post-Secondary Enrollment
Post-Secondary Completion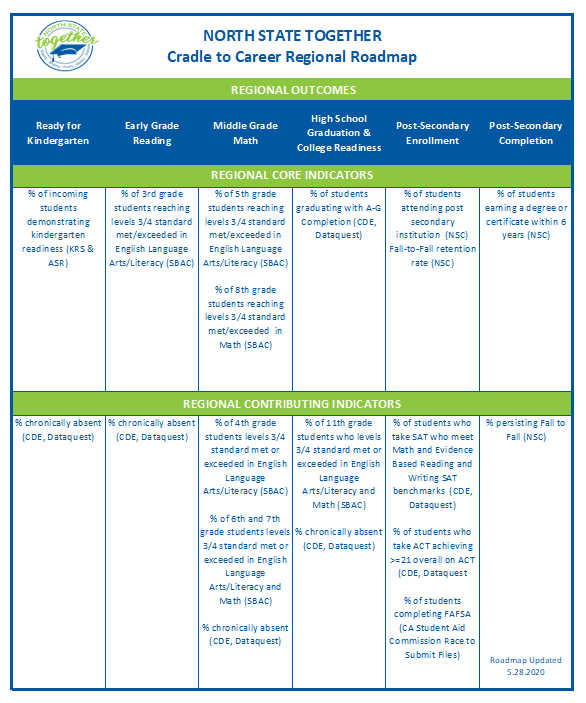 In addition, each county will set local indicators within the regional support framework that align with the vision of each county's collective impact network. Reach Higher Shasta, Expect More Tehama, Advancing Modoc Youth, Trinity Together Cradle to Career Partnership, and Cradle to Careers for Siskiyou will each set their own benchmarks and create their own county level roadmap and action plans for addressing the priority area(s) that most resonates with their needs and goals.
************************************************************************
North State Together – Research Analyst Broad Indicators and Priority Scale – 08-21-19
North State Together – Cradle to Career Regional Roadmap – 05.28.20
************************************************************************