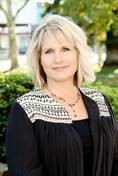 Kathy Garcia – Expect More Tehama Coordinator
Kathy Garcia loves a good to do list. She tries not to over commit, but will admit that she loves to be engaged in a good dose of meaningful work. If it doesn't find her, she usually finds it.
Garcia had a great childhood growing up in Tehama County but like many, she never thought she'd come back to the North State. After finishing an English degree at CSU, Sacramento, she worked in Sacramento, Long Beach and Portland. A job offer in Anderson brought her back to her roots. She missed a lot of the rural benefits that come with living in the area, and she looked forward to raising a family near her parents. She worked in regional community relations for Wheelabrator Shasta Energy Company for several years  before joining the Job Training Center in Red Bluff. She also joined the Lassen View School Board, the same K-8 school she attended and where her own three kids would attend.
Education as a sector was something Garcia knew very little about. The more she learned about workforce and education, the more she wanted to help connect the dots. In 2009, through conversations with friends concerned about education, she helped form Expect More Tehama. An expectation is a hope, and the group felt like Tehama County needed more hope for kids of all ages. They envisioned the community coming alongside education as a strong partner.
Garcia helped lead the group as a volunteer until being funded in 2016. She then became the part-time coordinator while still working for the Job Training Center. The greatest gift Expect More has given Garcia are new relationships. She loves making connections, asking questions, learning about other programs and initiatives. She found that sometimes what is difficult for education, is easy for the private sector, and what is difficult for the private sector is sometimes easy for education. When the two partner, the benefits can be huge. She's proud that Tehama County is small enough for people to know each other, which saves time and helps speed up action.
Through the last decade, being a part of Expect More has taught Garcia about poverty, equity, trauma, human development, interventions, mentorship, community leadership, higher education, rural challenges and so much more. She is grateful for seeing the community through the eyes of workforce, education and as a parent.