Marian Murphy-Shaw is an integral member of the Cradle 2 Careers 4 Siskiyou county collective impact team.  She is currently an Educational Services Director at the Siskiyou County Office of Education. She lives in Mount Shasta, where she and her husband, artist Jack Shaw, raised their daughters Shannon and Bridget who, after completing their degrees in recreation management and studio art, now live and work in Siskiyou County. Though a Bay Area native and a forever SF Giants fan Marian feels that "moving to the mountains to raise our children was the best thing we ever did".
Her role in the Educational Services Department includes direct contact with teachers and students when visiting classes – even by video now – for lesson study and instructional collaboration, as well as providing professional learning support to the 20 plus districts in the county across content areas K-12. The work feels like the same dynamic, ever-changing role she loved as a middle and high school science teacher and allows her to make daily use of the liberal arts education and biology degree she received from Mills College, in addition to attending several CA Community Colleges including College of the Siskiyous. Whatever the work at hand Marian's passion for every student learning to love and value their agency as a science and mathematics thinker, is what motivates her.
Over the last twenty years Marian has been a director for Career and Technical Education, After School-Expanded Learning, and an active partner in Service, Work-Based and Project-Based learning efforts in the north state region. Presently as part of the state Curriculum and Instruction Science Sub-committee she has opportunities to learn from and collaborate with statewide colleagues, and enrich her work with local schools.
Being a partner in regional work for science, mathematics, computer science, CTE, STEAM, and Universal Design for Learning (UDL) is part of what makes North State Together such a perfect match for Marian's abilities and passions. " We advise students to pursue careers doing what they love. I am fortunate to have been able to do just that."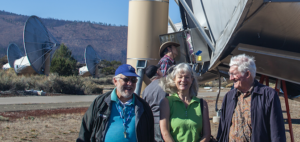 At Hat Creek Observatory – Chance meeting with the Founders