NORTH STATE TOGETHER JOINS STRIVETOGETHER CRADLE TO CAREER NETWORK
North State Together becomes one of nearly 70 communities in a national collective impact movement
The North State Region:  Modoc, Shasta, Siskiyou, Tehama, and Trinity counties via North State Together has joined the StriveTogether Cradle to Career Network and is now part of a national movement to help every child succeed in school and in life.
North State Together was developed by Shasta College and The McConnell Foundation to improve educational outcomes in the North State.  Dr. Joe Wyse, President and Superintendent of Shasta College, had this to say, "In its short tenure, North State Together has achieved tremendous success in engaging communities across our five
counties.  Through their StriveTogether membership, North State Together is helping to realize our Shasta College vision of becoming a nationally recognized model community college engaging its communities through innovation in student learning and growth.  We look forward to seeing our region progress along the StriveTogether Theory of Action™."
"We are thrilled to be able to partner with StriveTogether to advance our work in the North State.  By focusing our efforts on the StriveTogether proven framework, our communities can better ensure every child has every opportunity to succeed", said North State Together CEO Dr. Kevin O'Rorke.  "We are excited for the financial and technical assistance the national StriveTogether network will bring to North State Together to help us deliver more positive outcomes for North State children and families."
"We refuse to settle for a world where a child's potential is dictated by the conditions into which they are born," said StriveTogether CEO and President Jennifer Blatz. "Across the country, communities in the Cradle to Career Network are demonstrating that you can get better results for kids when you unite around a common vision and use data effectively. We are excited to welcome North State Together into the network."
To join the national network, communities complete an extensive assessment of their civic infrastructure development. North State Together has demonstrated clear evidence that our region is aligning resources around effective solutions.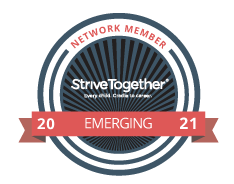 As StriveTogether members, we will begin to measure our progress against a continuum of quality benchmarks, known as the StriveTogether Theory of Action™. This proven framework has six designations — Exploring, Emerging, Sustaining, Systems Change, Proof Point and Systems Transformation — that indicate progress toward aligning resources around better and more equitable outcomes for youth.  North State Together is proud to be an Emerging member of the StriveTogether network.
###
About StriveTogether
StriveTogether  Last year, the StriveTogether Cradle to Career Network impacted the lives of more than 11 million youth — of whom more than half are children of color — across 29 states and Washington, D.C.
About North State Together
North State Together  is a regional network of cross-sector partners who have come together to strengthen educational outcomes from cradle to career for ALL in far Northern California.   North State Together serves as the backbone organization providing support to five county collective impact networks:  Reach Higher Shasta, Expect More Tehama, Advancing Modoc Youth, Trinity Together Cradle to Career Partnership, and Cradle to Careers for Siskiyou.   Our backbone support includes guiding the overall regional vision and strategy, establishing shared measurements, building public will, supporting aligned activities, advancing policy and mobilizing funding, all within a regional support framework.  As a backbone, North State Together maintains a delicate balance between the strong leadership needed to keep our counties united toward our common vision, and the invisible "behind the scenes" role that lets each county network own their own success.