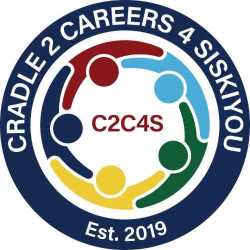 Cradle to Careers for Siskiyou (C2C4S) is collective impact collaboration between the Siskiyou Joint Community College District, College of the Siskiyous Auxiliary Foundation, Siskiyou County Office of Education, Siskiyou County Board of Supervisors, First 5 Siskiyou, the Tribes of Siskiyou, students, and other school districts, colleges, civic and community organizations, government agencies, and businesses engaged in, or supportive of, the education and well- being of children, youth, and adults in Siskiyou County.
The purpose of this collective impact collaboration is to provide unified leadership through a countywide effort to increase educational readiness and success, as well as to promote civic engagement and community careers that have a lasting positive impact on Siskiyou County.
To contact Cradle to Careers for Siskiyou, email C2C4S coordinator Jean Trevisan at jtrevisanycrc@gmail.com.
Mission:
The collective impact mission of Cradle to Careers for Siskiyou is to provide people of all generations with the strongest foundations for education, training and lifelong learning leading to successful, fulfilling careers and equitable opportunities.
Partners:
Siskiyou Adult Education Consortium
College of the Siskiyous (COS)
Tribes of Siskiyou
SiskiyouWorks
Siskiyou County Board of Supervisors/Association of Governments
Siskiyou Adult Education Consortium
Ore-Cal Resource Conservation and Development Area Council
Siskiyou County Board of Supervisors
College of the Siskiyous Foundation
Siskiyou County Office of Education
Siskiyou County Family Resource Collaborative
Community Impact:  Transforming Lives in Siskiyou County
C2C4S Launch Day – A Virtual Conversation
Miss this event?  The recorded webinar is now available for view: