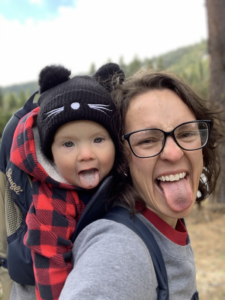 Tanja Ramming – Coordinator for Advancing Modoc Youth
Being the oldest sibling to two younger brothers was great training in bossiness and physical competition.  Tanja had the edge until she was about 12 years old, when brother #2 matched her in height and weight.  And from that point forward she had to learn the art of intellect and passionate persuasion.  Luckily she inherited her Aruban Mom's stubbornness perseverance! Hyper-focused to a fault she began her career after college investigating potentially fraudulent Worker's Compensation claims.  After 3 years of chasing paper with increasing bitterness towards the fate of humanity, she finally relented to her natural inclination of optimism and education.  She packed up her bags and left California to live the gypsy life for 10 years: traveling across Europe, exploring Australia, and spending time with family in Suriname and Curacao, she then moved on to earn her MS in School Counseling at Indiana University.  Exploring work with a variety of under-served and at-risk populations took Tanja to many rural communities.  From K-5 Elementary School Counseling, to Vocational Counseling for adults with disabilities, on probation, or residing in numerous Native Reservations, and onto outreach with Indiana military families through Purdue University's Military Family Research Institute- it was an education in the diversity and risks of rural communities.  Hopping from Arizona to North Dakota, Indiana and Minnesota, Tanja was ready to get back to California and the important things- family, great weather, and the mountains!
With the utmost respect for and commitment to the task of our public education system to serve ALL students, Tanja vowed to never work at a school she wouldn't send her own children to.  That meant selfishly seeking to improve systems and supports for ALL students, particularly those impacted by inequity.  Connecting with students during transition points where they often drop out became a passion.  Tanja spent years as a High School Counselor before moving onto the community college system to focus on CalWORKs students and those in geographically dispersed regions.  Her work with AEBG, Student Equity, and Work Experience solidified her passion for pathways and work-based learning.  The call of the mountains took her family to Modoc County where she now splits her time between HS Counseling at Modoc High and Coordinating Advancing Modoc Youth.  It is a blend of the best aspects of her previous work: serving youth directly promoting social mobility and collaboratively improving systems of transition like guided pathways, K-12 Career Guidance curriculum and advocacy for equity.
Outside of work, Tanja cheers for her husband,  Patrick, who operates Surprise Valley Lumber Mill, and tries to keep up with the mischievous and often muddy antics of their two boys Ivan (5) and Jubal (1).
To learn more about Advancing Modoc Youth, contact Tanja at tramming@modoc.k12.ca.us.